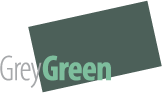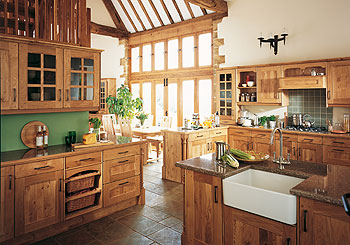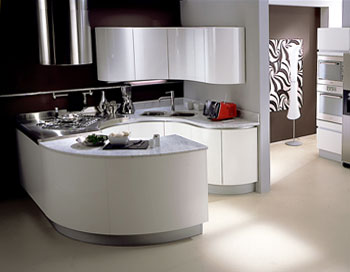 Top - Timo from Biefbi - a hi gloss, any colour, handleless range with concave and convex curves, from Italy. Click on picture
Bottom - Burbidge Arundel Natural Oak. Click on picture
Dishwashers

Most fitted kitchens allow for dishwashers. A dishwasher can save time, energy and be eco friendly. Most are built-in and will have a matching unit door fixed to the front. If you have a freestanding one which you want to keep for the time being but anticipate purchasing an integrated one, we recommend that you purchase a cabinet door and store it for the time when you purchase a new one, as some lines are discontinued at a later date and it is then difficult, if not impossible, to match the door. When selecting a dishwasher look at size (45 or 60 cm wide), how economic it is, the number of functions, the noise level (new steam dishwashers are very efficient and quiet), and the construction.  The lining can be plastic or stainless steel, stainless steel being better; the adjustment of the rear leg/s – rear legs whose height can be adjusted from the front makes life easier for all concerned.  Talk to our GreyGreen designer about the practicalities of installing it, ie, water/waste services
a
A waste disposal unit can easily be installed by GreyGreen into your new fitted kitchen. Around 20-25% of all garbage waste is leftover food. Incorporating a waste disposal unit within your kitchen will save you time and effort, and it also helps the environment as there are less trips to the landfill site and once the disposal unit has done its job of cutting the waste food into particles small enough to go down the waste pipe, it will eventually turn into soil conditioner! Many councils now encourage their use as a way of recycling the food waste.
a
When it comes to choosing the right type of fridge/freezer (F/F) one of the things you will need to consider first and foremost is: do you want a chilled water and/or a ice dispenser. At present there are no systems that integrate these functions into a built in unit similar to a coffee maker. You will need to look at the free standing American style F/F for these functions.
Depending on your family size you might need to upgrade to a full height integrated fridge, and freezer
Consider, also, the BioFresh function that is incorporated into many fridges - the climate for extra-long freshness. At a temperature just above 0°C and the ideal humidity, fruit and vegetables, meat and fish retain their healthy vitamins, delicate aroma and appetising appearance up to three times longer than in a refrigerator compartment.
Sliding door versus door on door. Fridge and freezer cabinets, when integrated into the kitchen units, employ one of two systems for hanging the unit doors onto the F/F units. The slider system is cheaper for manufacturers to produce. The kitchen unit incorporates the hinged door and the F/F unit's door slides on the cabinet door when it is opened. It is a fragile system and frequently needs adjusting. The other system, where the cabinet door is fixed directly to the front of the F/F door, referred to as 'Door on Door', is far more robust and a little more expensive as the fridge's hinges need to be better engineered. GreyGreen always recommend the latter.
Ovens
Ovens – should it be gas, or electric (circulated hot air or steam, or both combined)? Electric ovens can offer better cooking features with the fan assisted ovens spreading the heat evenly throughout the whole oven as apposed to the conventional gas oven which has varying heat, usually the top being the hottest.
An updated technology is the steam oven and the steam/hot air combination. These ovens have many advantages over the straight conventional oven.
The principle of using steam is simple. Instead of being immersed in water, as in conventional cooking, food is placed in a container over boiling water. Hot steam rises and passes through perforations in the container base.  This accesses the food and transfers heat from all sides. Because the food is not immersed in liquid, colours do not leach out, so vitamins and nutrients, essential to the human body, are retained. And, because the natural flavour is retained, there is no need to use fat or add salt and seasoning. The finished result is food, which tastes terrific and can be enjoyed in its most natural state. With this, there are obvious health benefits and with the Scientific Advisory Committee on Nutrition recommending no more than six grams of salt intake per day, steam is the simplest way to achieving a healthier diet without compromising on taste.
For the full story on the benefits of steam cooking from the training manager at Miele's Experience Centre, Nicky Youngjohns, download from GreyGreen this document
a
Hobs come in all shapes, sizes and heating methods from gas to halogen and induction. Gas hobs have become more efficient with the Lotus shaped burners which spread the heat more evenly. Induction hobs incorporate a recent technology which is set to be become the de facto way to cook. Faster than gas and more controllable the smooth glass surface is easy to clean and maintain. Food is not burnt on. Wok lovers might want to combine a gas ring with the induction plate (see ATAG appliances) or look at induction hobs with a molded in large dimple to accommodate the wok (see Stoves hobs)
a
The sink you choose for your kitchen can be a focal point of style and, because of the wide range of materials and formats to choose from, the sink can compliment your kitchen choice whether traditional or contemporary. Ask for our sink and tap catalogue or go to an e brochure
a
There are various types of kitchen sink taps on the market today from the standard mixer taps through to the more exclusive Tri-Way taps with built in filter/purification systems. Choosing the right type of tap can play a large part in the stylish look, and feel, of your kitchen.
Dual Flow Taps A dual flow tap (one knob or lever) enables you to receive either cold, hot or mixed water variants with a single lever
Filtered water If you want to incorporate a filtered water supply, the best way is to choose a standard dual flow tap and incorporate a knob on the sink or worktop that switches the cold water supply from mains to filtered
Ask for our sink and tap catalogue or go to an e brochure that features this system
Tri-Way taps A tri-way tap will deliver all the above features via individual levers for the hot and cold, with a third lever for the added feature of providing filtered water. This alternative is now a little outdated due to the fiddly nature of the number of levers.
Kitchen appliances
The appliances for you kitchen are as important as the fitted kitchen itself and should enhance, and compliment, the overall design style. All kitchen appliances come with additional features which will increase the price. You can do your own research as to which are necessary, desirable or affordable, or ask our designers for advice. They will fill you in on the latest technologies and time saving devices. Some helpful advice and information is given below